Düsseldorf, 13.06.2014
It was on the day of the final of the Football World Cup (Germany vs Argentina) when the NEW PIECE OF ART# 28 was brought to life. Some weeks before there was a huge destructive storm that swept over Düsseldorf. Thousands of trees were destroyed. According to the media, this disaster occurred due to meteorological reasons. But the truth, in my eyes, is very different and unbelievable: That day an angel fell from heaven and landed on earth. He had succumbed to the many sweet temptations and was cast out of heaven. Thank God I took a photo as proof of this fallen angel. He lay there in the park next to my house. The photo can be seen hidden my NEW PIECE OF ART # 28.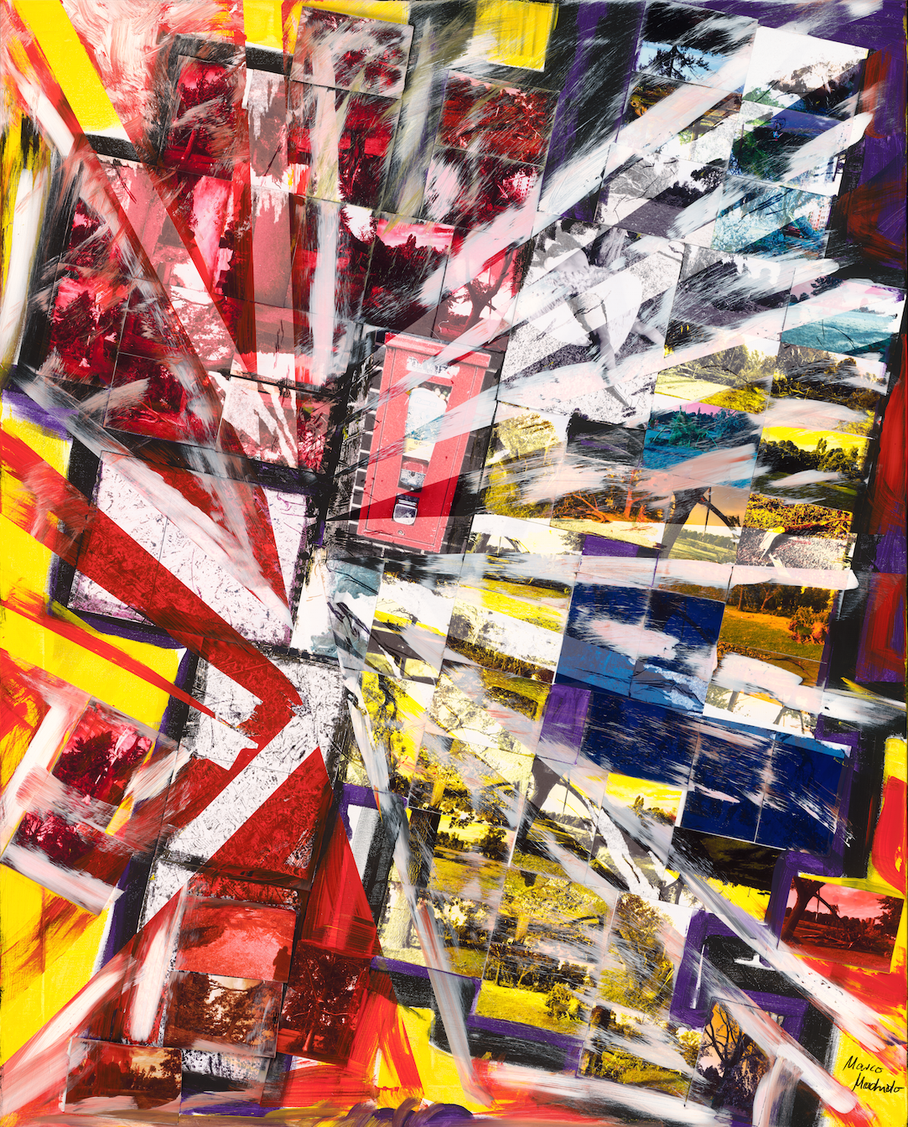 THE FALLEN ANGEL, 2014 by MARCO MADRIDO, 120 cm x 150 cm, Photocollage + Acryl on Canvas

---
Düsseldorf, 24.08.2013
More beautiful. More muscular. Younger. Less Wrinkles. Better Style. We live in a society full of mirrors. Do you ever leave your house without having glanced at one? Because of this, we drag ourselves every day to the gym, so that we can finally feel better afterwards. Who would have thought? We are a results-oriented species. We want to keep up with the benchmarks tomorrow. However, be sure not to forget there will always be someone who is more attractive than you are. But like in competitive sport, we never give up, because we simply do not want to lose our battle of the vanities. Maybe at the very end of our journey we realize that we should never have become part of that battle as we can only lose it. Perhaps true happiness does not come from going to the gym regularly. Maybe happiness is to accept yourself as you are. And maybe then life will hold fewer disappointments. We will then be ready to judge people by how they treat us and by the amount of sex appeal they seem to have. Anyway, I'm on my way to the gym now.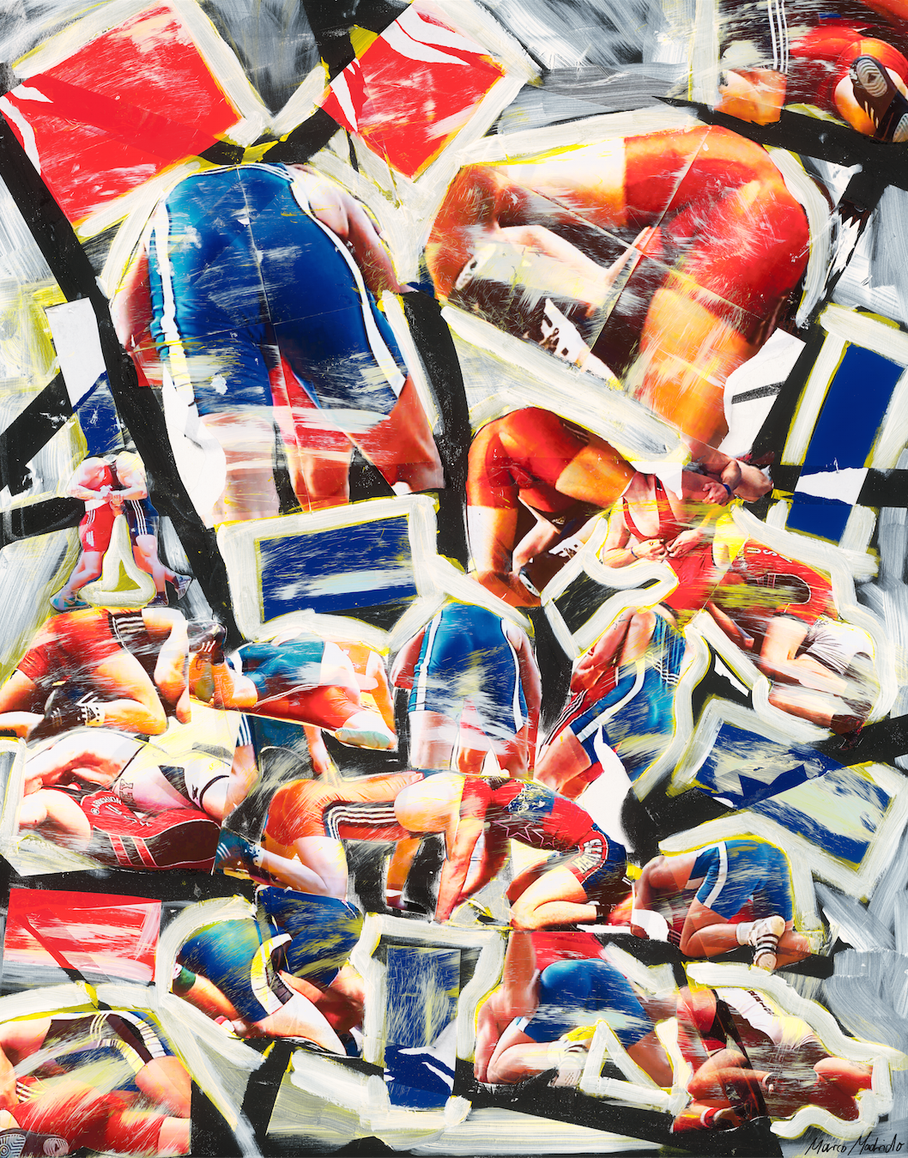 BATTLE OF VANITIES, 2014 by MARCO MADRIDO, 120 cm x 150 cm, Photocollage + Acryl on Canvas

---
Düsseldorf, 24.08.2013
Some people already met her. They cherish and care for her every day. That's the way it should be. Others had her but only for a short period of time. And some people wait a lifetime for her. And many of those who are with her right now might not appreciate her enough. Everyone needs her. In different ways we can give her or receive her. # 25 LOVE is especially for all the singles in the world who want nothing more than to have a partner with whom they can share their lives. Just as the hearts in the painting are somewhat hidden and the red and white barrier tape denied access to them, maybe you just have to take a closer look to realize your love of your life. And then maybe two hearts might meet which stay together for ever.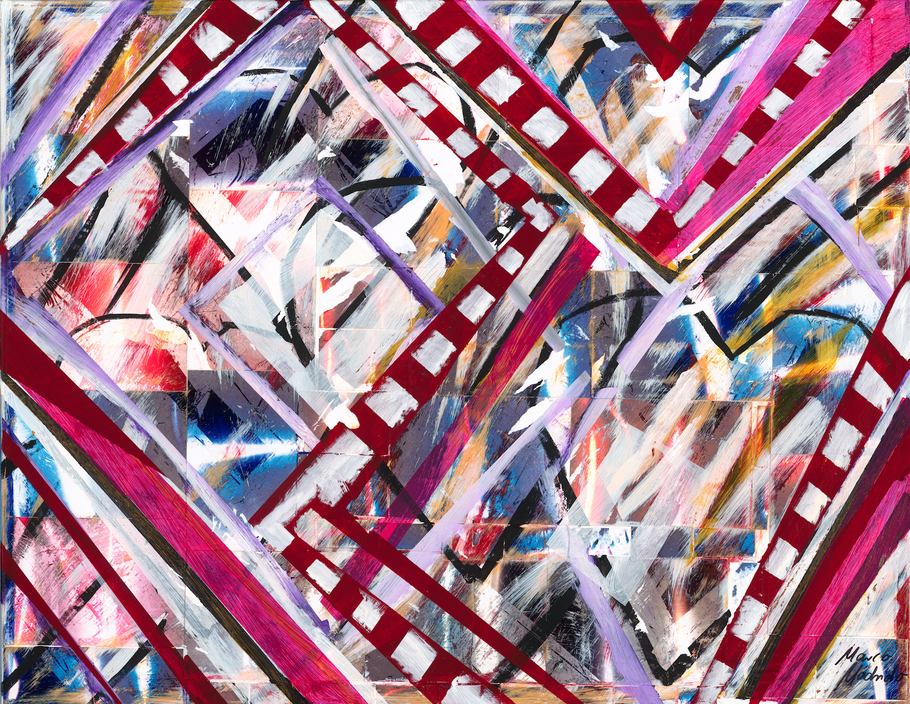 LOVE, 2013 by MARCO MADRIDO, 150 cm x 120 cm, Photocollage + Acryl on Canvas

---
Düsseldorf, 16.05.2013
In times where continuous change is the only constant in life, friendships extended throughout different cities and country borders are a great treasure. Often, the job determines the city in which we live. And of course we can build up new friendships in each new city we move in. But friends are not necessarily the people with whom you spend many hours together for a certain period of time in a particular city, but also those very people who still think regularly about you, although they live thousands of miles away. # 24 - FRIENDSHIP I dedicate this to my dearest school friend Nadine. The first person I told I am gay. If you ever read this here: You will always remain a friend that I carry deep in my heart, even if it's been over a decade since we could see each other in person.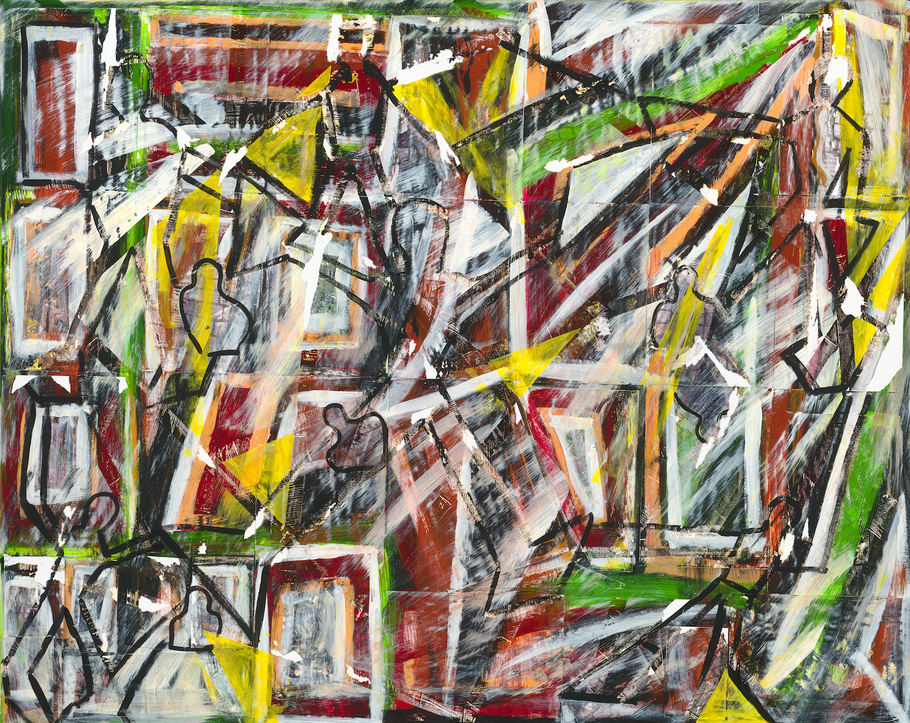 FRIENDSHIP, 2013 by MARCO MADRIDO, 150 cm x 120 cm, Photocollage + Acryl on Canvas

---
Düsseldorf, 06.05.2013
Life is often one huge mess. Is everything in a certain order? All of a sudden an almost frightening disorder can change everything. But even a messy flat can have an enchanting charm. Even a rainy day can be the most beautiful day in the week. And for sure everybody knows about these days when we believe we would have preferred to stay in bed and not to get up, but especially these kind of days can become one of the best days in our entire life. What is required is a certain glow of pleasure in life. So let's tear the curtains wide open. Let the joy of life shine bright!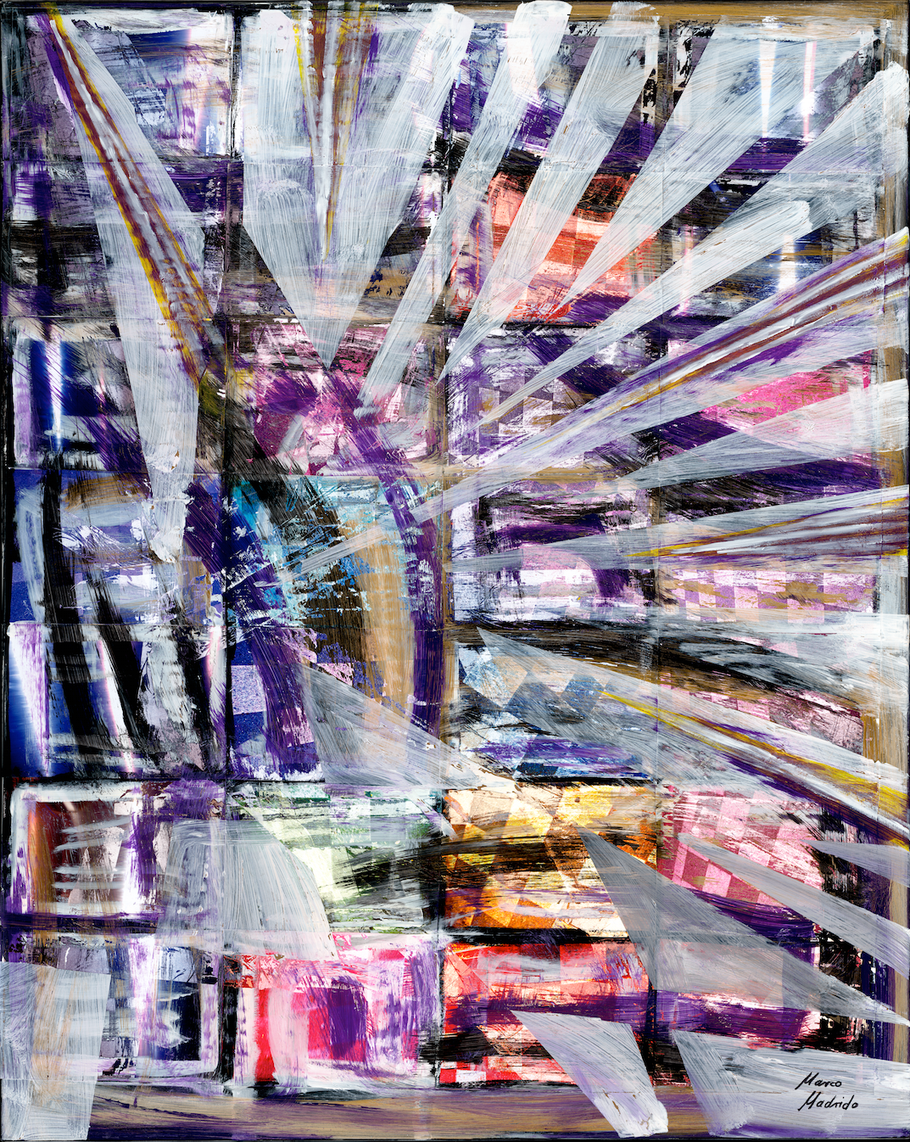 THE SHINING, 2013 by MARCO MADRIDO, 120 cm x 150 cm, Photocollage + Acryl on Canvas

---
Düsseldorf, 01.05.2013
The virtual identity is on it's way to be more important than real life itself – iPad/ laptops, the list goes on…. We determine ourselves through Facebook and other social networks and we do like to control how public looks upon us. Unpleasant pictures are definitely NOT uploaded. And just as real life is getting more and more virtual so are our sex lives. We previously used chat forums to arrange "real life" meetings. Broadband Internet today, including Skype and numerous video chat platforms, allow us to live sexual desires LIVE and in color on webcam. A possible recording of our online ventures is always a risk. Sometimes even put out for purchase. To each his own! But on a long-term perspective the following question is allowed: Where is the romance? How will a society survive, where no one will arrange a date to simply enjoy a drink in the coffee shop on the corner, just to get to know each other firstt? Instead just the most intimate moments we can have as human beings are now shared with a stranger on webcam: sexuality. When in the past porn was purchased and watched alone at home, today thousands of people becoming a porn actor 2.0 for free when they return home from work to live their new sexual dreams via webcam on skype or any other video chat platform.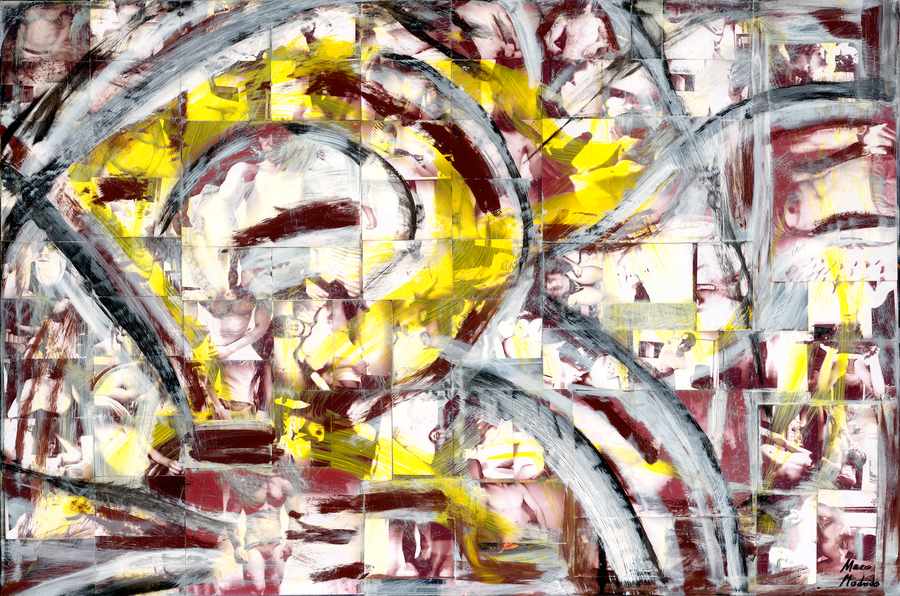 THE SHINING, 2013 by MARCO MADRIDO, 100 cm x 150 cm, Photocollage + Acryl on Canvas

---
Düsseldorf, 24.02.2013
When I walked to the supermarket last Friday night directly after work I was deeply impressed: It seemed as if hundreds of windows shattered and as if billions of shards of glass were lying on the sidewalk. Of course it was not the case: It had only snowed. I was offered an impressive light show whenever a car passed by with the headlights on and made the snow flakes shine like stars in the sky.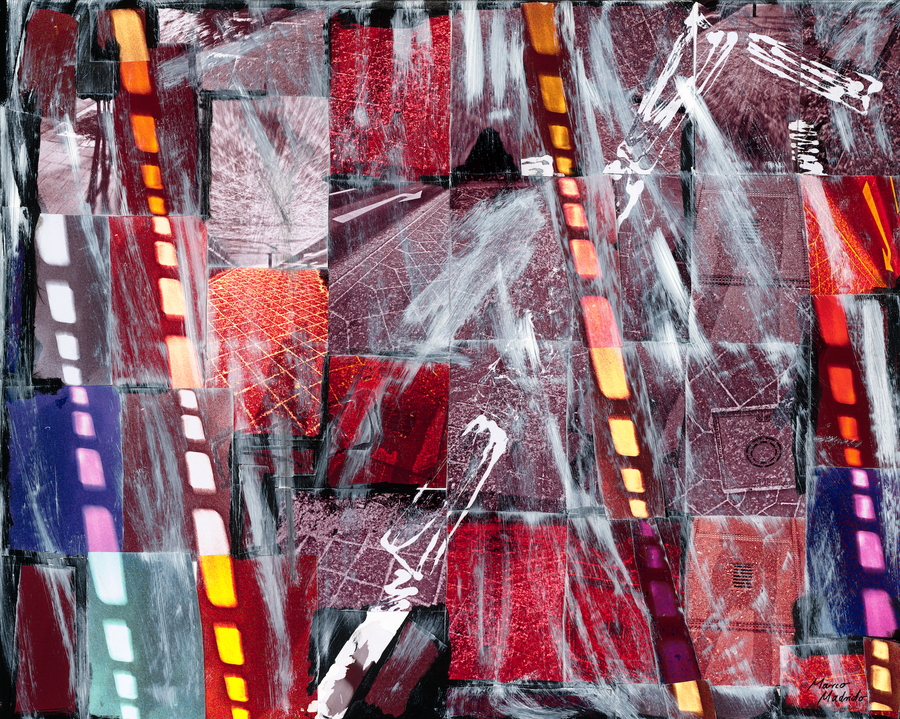 ON MY WAY TO THE SUPERMARKET, 2013 by MARCO MADRIDO, 150 cm x 120 cm, Photocollage + Acryl on Canvas

---
Düsseldorf, 23.02.2013
I did some kind of a dustbin photo study in Cologne and Düsseldorf. Both cities in Germany. I found out that the dustbins in Cologne are looking very similar to a face with a mouth wide open. Out of these photos I created my next NEW PIECE OF ART. Don't we all know these kind of people who just talk rubbish whenever they open their mouths? Thus there must be some people who have to consume these words without any meaning. When was the last time you felt like a "RUBBISH TAKER"?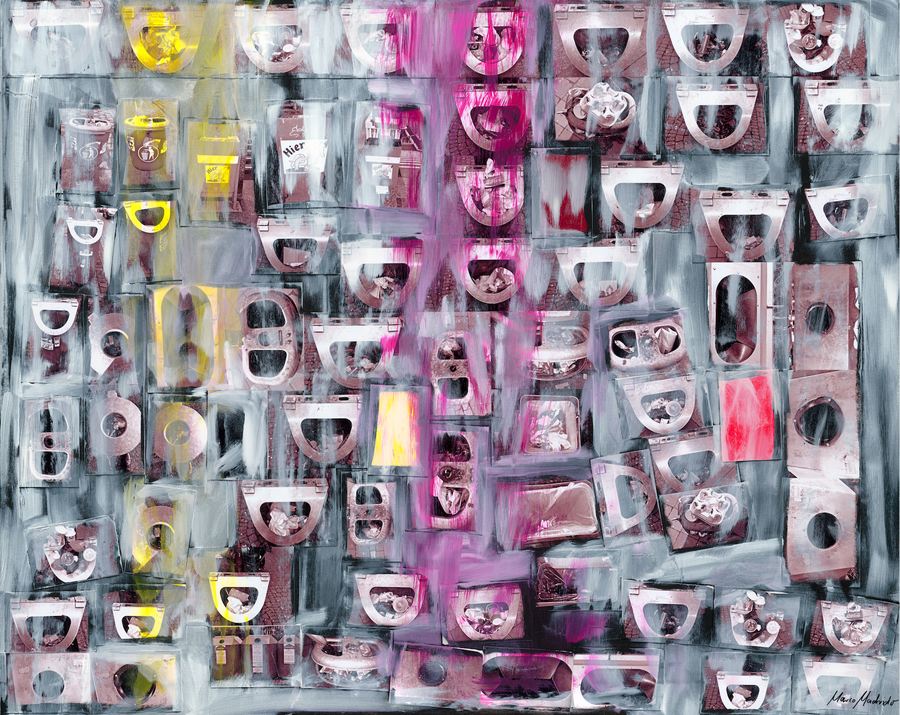 RUBBISH TAKER, 2013 by MARCO MADRIDO, 150 cm x 120 cm, Photocollage + Acryl on Canvas

---
Düsseldorf, 30.12.2012
The year 2012 ends with a look at the errors of life. Sometimes it's really moves fast, as easy as when travelling with the tram or walking up an escalator. Other life stages seem to be very tough and more than challenging. They make you feel like climbing steps on a never-ending staircase. And sometimes it looks like you are not getting any further. But that's the moment which requires a larger mindset to break through. And one thing is certain: even locked doors can be opened !!! Although there is no guarantee, you will never know if you don't try. Finally that's what it's all about: Not too much doubt, look ahead, and please "DO NOT BE A MAYBE".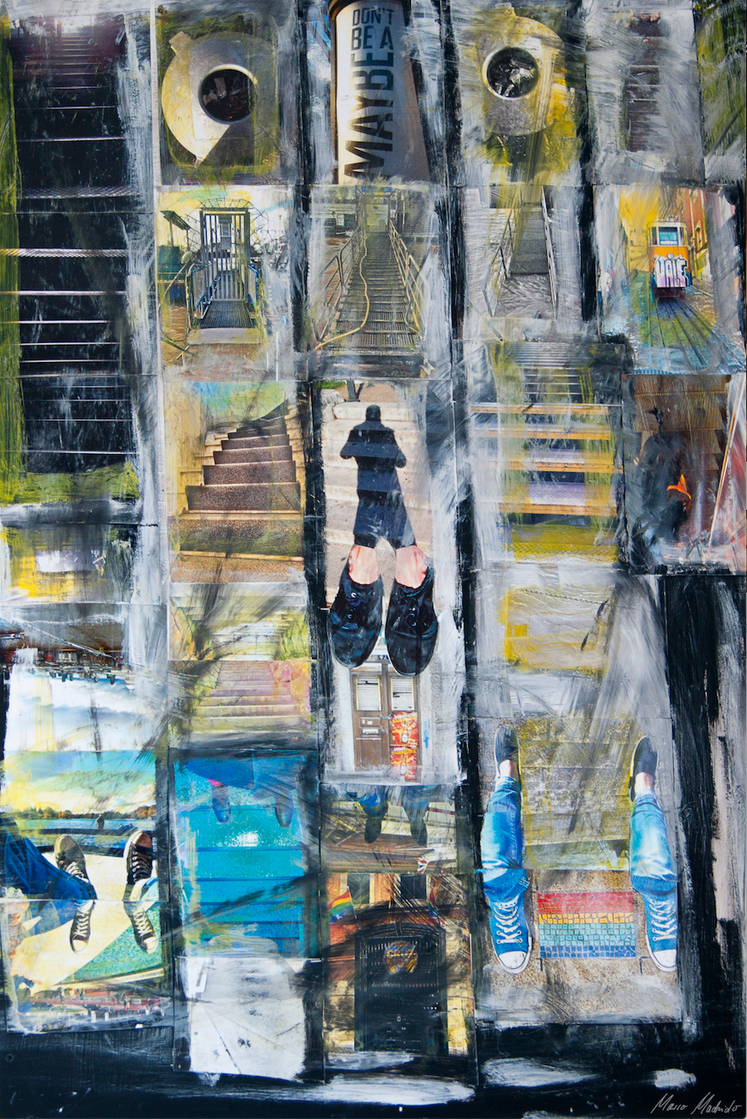 THE PATH, 2012 by MARCO MADRIDO, 75 cm x 130 cm, Photocollage + Acryl on Canvas

---
Düsseldorf, 14.10.2012
A tribute to the Rhein which is a river that flows through Düsseldorf. Are we all like a boat floating on the Rhine? Can we only just sail up or down? We usually forget to take each new day as an opportunity to give our life a new turn. But exactly the opposite should be the case and that is exactly what NEW PIECE OF ART # 17 is all about.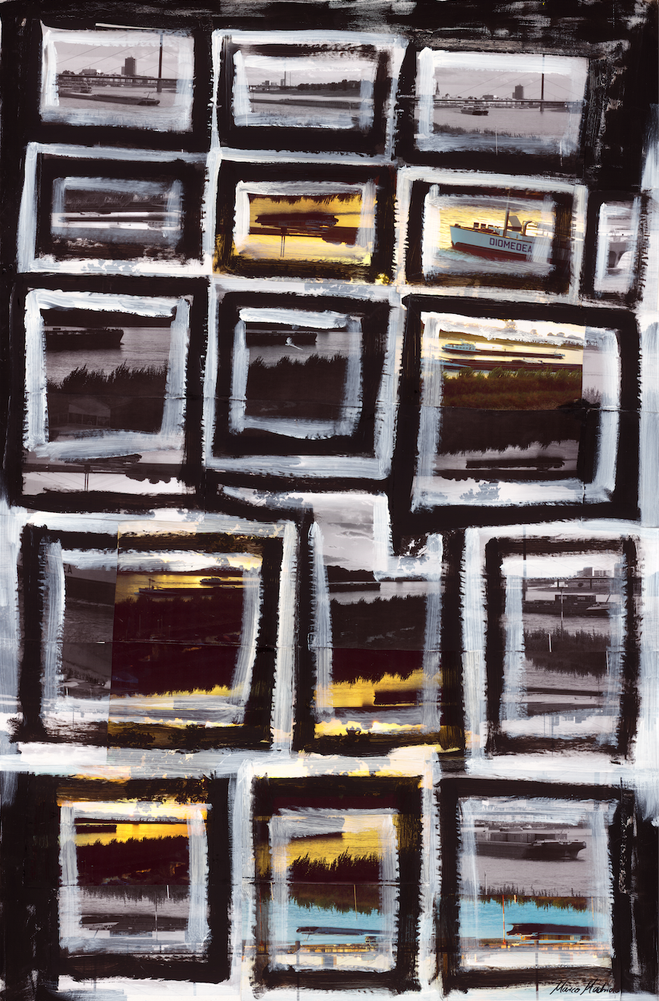 ---
RHINE LIFE, 2012 by MARCO MADRIDO, 100 cm x 150 cm, Photocollage + Acryl on Canvas

Düsseldorf, 19.09.2012
In every city there are fellow human beings who have to sit and beg In front of the supermarket. How often do we pass and ignore them without even batting an eyelid? I am convinced that if we all now start looking frequently in the eyes of other people, the world of tomorrow would become a significantly better place very quickly. The beggar in front of the supermarket will probably still have to beg, but at least he will feel more than a human, because we no longer see through him.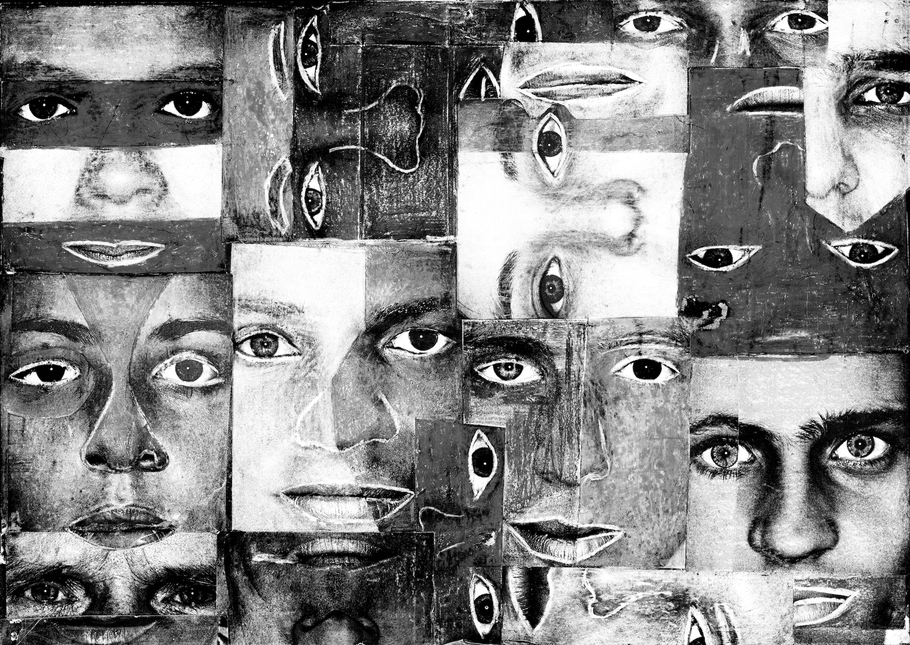 FACES RE-CREATION, 2012 by MARCO MADRIDO, 120 cm x 90 cm, Photocollage + Acryl on Canvas

---
Düsseldorf, 07.07.2012
It's about love between men. About sex. About the constant hunt for the next catch. We judge only by appearances. We cluster not for sympathy or helpfulness, but oh yes we do for the sexfaktor. And that is pretty stereotypical. The selection is huge. And the next temptation might be just around the corner. 
But each sex machine also has a heart .... somewhere.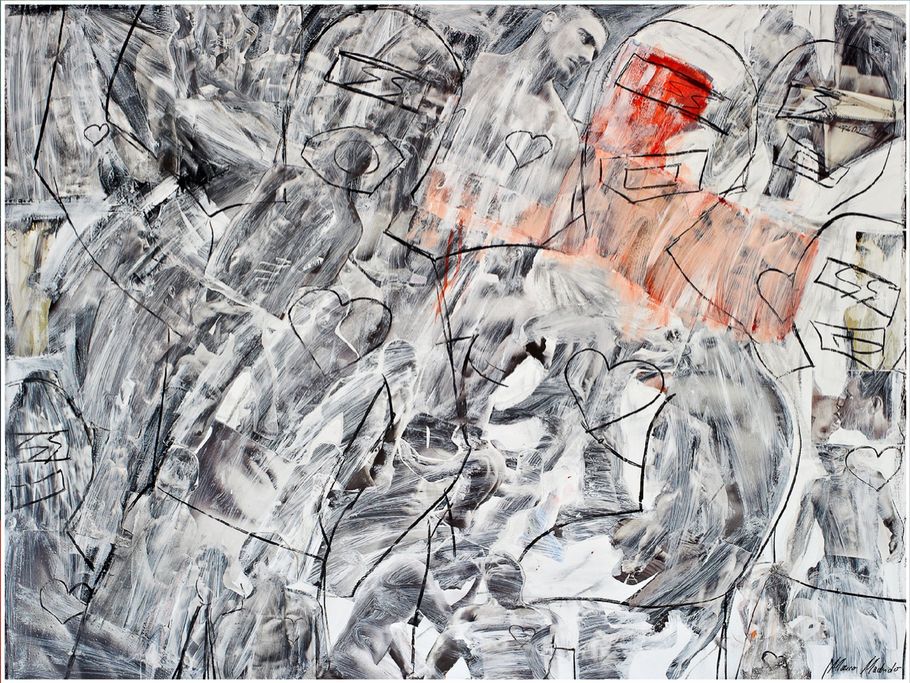 LOVE MACHINE, 2012 by MARCO MADRIDO, 150 cm x 120 cm, Photocollage + Acryl on Canvas